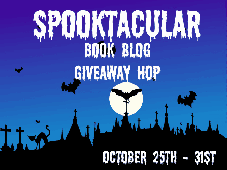 I'm participating in the Spooktacular Book Blog Giveaway Hop, along with 87 other blogs! Make sure you check them all out! (They're in a Linky at the bottom of the post)
The Spooktacular 1st Prize Pack:
An ARC of First Grave on the Right, by Darynda Jones
The School for Dangerous Girls, by Eliot Schrefer
Anxious Hearts, by Tucker Shaw
The Spooktacular 2nd Prize Pack:
An ARC of Teenie, by Christopher Grant
The School for Dangerous Girls, by Eliot Schrefer
An ARC of The Big Crunch, by Pete Hautman
The Spooktacular 3rd Prize Pack:
Misty Gordon and the Mystery of the Ghost Pirates, by Kim Kennedy
The Princess Trap, by Kirsten Boie
Hurricane Mia: A Caribbean Adventure, by Donna Marie Seim
To Enter:
*Leave a comment on this post with your
email address
.
*You must be a follower of this blog (It's simple and painless, I promise)
*In your comment, please tell me one of your favorite Halloween memories. :)
Three winners will be drawn from the entries. Prize packs will be given in the order the entries are drawn.
US & Canada only please. Contest ends at 11:59 PM EST, October 31st. Winners will be announced the following week.
Don't forget to check out these other Spooktacular Giveaways!