So here's the deal. Hubby and I rearranged the living room, and in doing so, I had to remove my books from two of my shelves. He kept commenting on how many books I had, and finally he made me count them. Now, this isn't all I have, but it's easiest to just to do these two bookcases.
This is a CONTEST. *grin*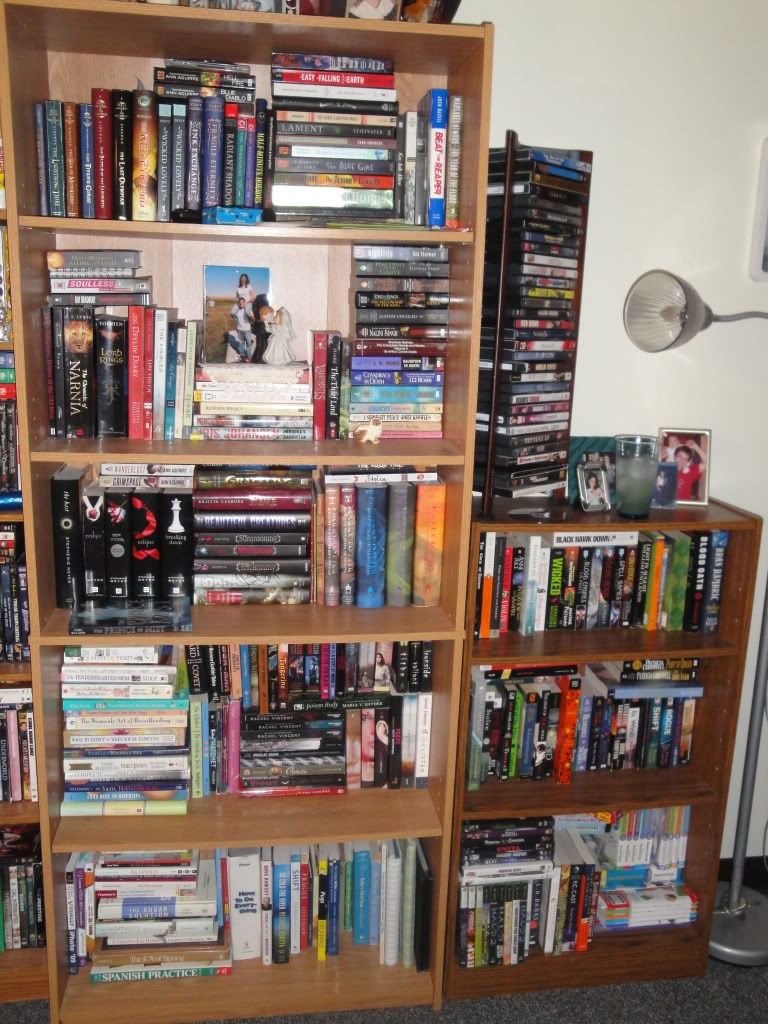 How to Enter:
Guess how many
books
are on these two bookcases and leave your guess in a comment. You can try and count, but honestly, you're better off guessing. Why? A few of the books are Omnibuses (Omnibi?) and on the shorter shelf there are a few DVD and Xbox games. Plus, I couldn't get all the books in from the angle I took the picture from, so a few are hidden. Mwahaha. The DVD tower on top of the shorter bookcase don't count, obviously.
The first person to guess how many books are there gets an ARC of The Prince of Mist, by Carlos Ruiz Zafon. Granted, the book is already out, but I know there are a lot of people out there who like to have arcs for the sake of having arcs. Plus, I don't have room on my shelves. :p
If you don't follow me on Twitter, then please leave your email address so I can contact you should you win. Otherwise I will let you know via a post here and on Twitter.
Contest is open to US Residents only. Contest will close A) As soon as someone guesses correctly or B) Sunday, June 13th, in which case the closest guess will receive the arc.
Happy guessing!
Don't forget to enter the Girl Parts ARC giveaway! Contest closes on Saturday!