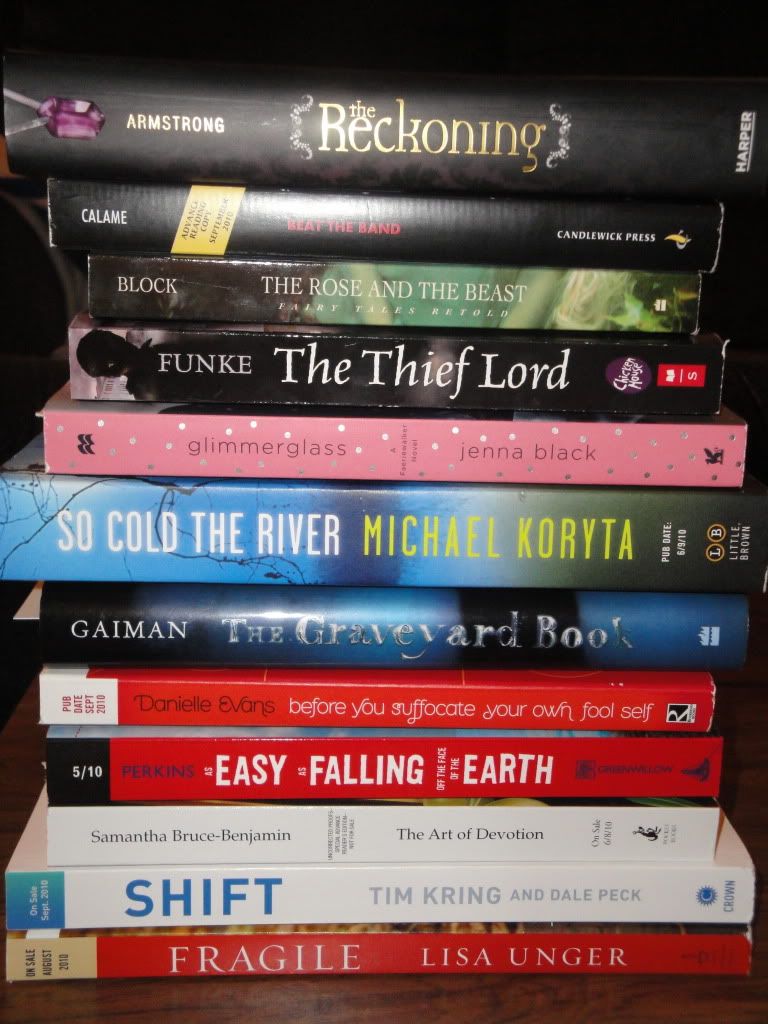 Okay, so it's really "In My Mail Box", but I have to stick with my theme and keep it three words all beginning with the same letter.
In My Mailbox is a weekly meme hosted by
The Story Siren.
I've gotten a lot of books this week. *grin*

Glimmerglass
, by Jenna Black
The Thief Lord
, by Cornelia Funke
The Rose and the Beast- Fairy Tales Retold
, by Francesca Lia Block
The Graveyard Book
, Neil Gaiman
Before You Suffocate Your Own Fool Self
, Danielle Evans
As Easy As Falling Off The Face Of The Earth
, Lynne Rae Perkins
So Cold The River
, by Michael Koryta
Shift
, by Tim Kring and Dale Peck
The Art of Devotion
, by Samantha Bruce-Benjamin
Fragile
, by Lisa Unger
Beat The Band
, by Don Calame
The Reckoning
, By Kelley Armstrong
How about you? Did you get anything good?
------
I also have a review for you. I recently finished
Spirit Bound
, by Richelle Mead. This is the 5th installment in the Vampire Academy series.
Love
this series. I practically ate the first 3 books. For those of you who read Blood Promise and were less than impressed- have no fear. Spirit Bound makes up for it. We're back in the environment I was comfortable with- Saint Vlad's. I can't say much without giving out some serious spoilers, but I will say that I quite enjoyed it. Rose is growing as a person, and although the mommy in me wanted to smack her upside the head a
lot
, it was a fun ride. Growing up and shouldering responsibility is hard, and Spirit Bound is proof.
Anyhow, give The Vampire Academy series a shot, if you haven't yet. :)