This week's Hop question: Tell us about the book you are currently reading!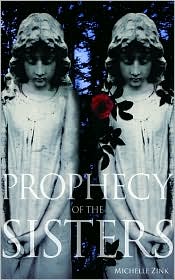 I'm reading Prophecy of the Sisters, by Michelle Zink. I saw this one on a whole bunch of other blogger's pages, and it seems as though nearly everyone is waiting for Guardian of the Gate. (By the way folks, this is proof that book bloggers have an impact. :) ) Anyhow, Prophecy of the Sisters is right up my alley- secrets, a prophecy that must be decoded, strange occurrences, and an inevitable choice that could change things forever. Love it! And it's set in the 1800's, which adds to the eerie feel perfectly. I'm about halfway through, and if it continues on in this vein... I think I'll love it. Either way, there will be a review on Prophecy of the Sisters soon, so keep an eye out for it! :)
If you're here from the hop, make sure to leave a link to your blog so I can come check it out! Thanks guys! Have a Happy Hop!